In the realm of skincare and beauty, laser treatments have emerged as a game-changing solution for addressing various skin concerns. Whether you're seeking hair removal, skin rejuvenation, or scar reduction, the key to achieving flawless skin lies in finding the best laser treatment in Surrey. Look no further than Curl & Glow Beauty Salon & Spa. In this article, we'll explore the world of laser treatments, focusing on why Curl & Glow is your ultimate destination for radiant and healthy skin.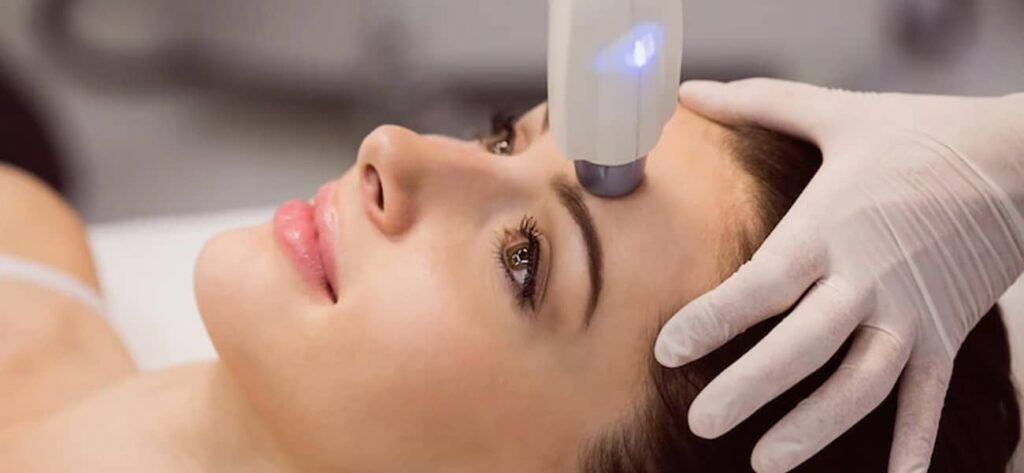 The Power of Laser Treatments
Laser treatments have revolutionized the beauty industry by providing safe and efficient solutions for common skin issues. These non-invasive procedures use the power of concentrated light to target specific areas, stimulating collagen production, reducing pigmentation, and promoting overall skin renewal.
Why Curl & Glow Beauty Salon & Spa Excels
Curl & Glow Beauty Salon & Spa stands out as the unrivaled choice for laser treatments in Surrey. Here's why:
Expert Team: The salon boasts a team of highly skilled and experienced professionals who excel in laser treatments, ensuring safe and effective procedures.
Cutting-edge Technology: Curl & Glow utilizes state-of-the-art laser technology to deliver exceptional results, prioritizing your comfort and safety.
Personalized Consultation: Every client receives a personalized consultation, tailoring the treatment plan to their specific skincare needs and concerns.

Comprehensive Laser Treatments at Curl & Glow
Curl & Glow Beauty Salon & Spa offers a wide array of the best laser treatments in Surrey laser treatments designed to address various skincare concerns. Here are some of their sought-after laser services:
Laser Hair Removal
Bid farewell to unwanted hair with advanced laser hair removal treatments. Enjoy smooth, hair-free skin on virtually any part of your body, including the face, legs, underarms, and bikini area.
Laser Skin Rejuvenation
Turn back the hands of time and reverse the effects of aging and sun damage with laser skin rejuvenation. This treatment targets fine lines, wrinkles, age spots, and uneven skin tone, unveiling a more youthful and radiant complexion.
Acne Scar Reduction
For those grappling with acne scars, Curl & Glow's laser treatments can significantly diminish their appearance, improving overall skin texture and boosting your self-esteem.
Pigmentation Correction
Say goodbye to troublesome pigmentation concerns like sunspots and melasma. Laser pigmentation correction effectively targets and reduces pigmented lesions, restoring a more even skin tone.
Vein and Vascular Lesion Removal
Visible veins or vascular lesions need not be a concern any longer. Curl & Glow's laser treatments safely and efficiently reduce their visibility, enhancing your skin's clarity.
Experience the Epitome of Laser Treatments
In conclusion, Curl & Glow Beauty Salon & Spa stands as your trusted partner for experiencing the best laser treatment in Surrey. Their unwavering commitment to excellence, cutting-edge technology, and individualized care make them the ultimate destination for achieving your skincare aspirations. Rediscover your innate beauty and confidence with the transformative power of laser treatments at Curl & Glow.
The Laser Treatment Process
Understanding what to expect during a laser treatment session can alleviate any concerns. At Curl & Glow, your experience begins with a thorough consultation. The expert team assesses your skin type, concerns, and desired outcomes to create a tailored treatment plan. During the procedure, the laser device emits precise wavelengths of light, targeting the specific issue. Many clients find the process comfortable, with minimal discomfort. Aftercare instructions are provided to ensure a smooth recovery.
Safety and Comfort
Curl & Glow prioritizes your safety and comfort throughout the laser treatment journey. The advanced laser technology used minimizes discomfort and reduces the risk of side effects. Their team of professionals is well-trained to ensure that every session is conducted with the utmost care. With safety measures in place, you can have peace of mind knowing that you are in trusted hands.
Results and Maintenance
One of the advantages of choosing Curl & Glow for laser treatments is the remarkable results you can achieve. While results vary based on the specific treatment and individual skin characteristics, many clients notice visible improvements after just a few sessions. To maintain and maximize results, adherence to post-treatment care and follow-up appointments is crucial. Curl & Glow's team provides guidance on skincare routines and maintenance to ensure long-lasting benefits.
Client Testimonials
Don't just take our word for it; hear from satisfied clients who have experienced the best laser treatment in Surrey at Curl & Glow Beauty Salon & Spa. They share their journeys, highlighting the transformative effects of laser treatments on their skin and confidence. These testimonials offer insights into the exceptional service and results that await you at Curl & Glow.
Schedule Your Consultation Today
Your path to radiant and rejuvenated skin begins with a consultation at Curl & Glow Beauty Salon & Spa. Take the first step towards the best laser treatment in Surrey by booking your appointment today. Join the ranks of delighted clients who have unlocked their beauty potential through the power of laser treatments at Curl & Glow.